Georgia State University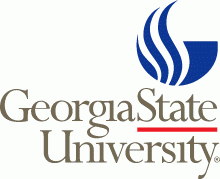 As the only urban research university in Georgia, Georgia State University—a four-year institution—offers educational opportunities for traditional and nontraditional students at both the graduate and undergraduate levels by blending the best of theoretical and applied inquiry, scholarly and professional pursuits, and scientific and artistic expression. As an urban research university with strong disciplinary-based departments and a wide array of problem-oriented interdisciplinary programs, the goal of Georgia State is to develop, transmit and utilize knowledge in order to provide access to quality education for diverse groups of students, to educate leaders for the State of Georgia and the nation, and to prepare citizens for lifelong learning in a global society.
Located in the heart of downtown Atlanta, this major research university has an enrollment of more than 27,000 undergraduate and graduate students in six colleges. Georgia State is the second largest university in the state, with 90 percent of the students coming from every county in Georgia, every state in the nation and from over 145 countries. More than 1,400 international students attend Georgia State and graduate students comprise 31 percent of the student population.

The University offers more than 52 degree programs in more than 250 fields of study—from public policy and African-American studies to biology and health sciences. Degrees are offered at the bachelor's, master's, specialist and doctoral levels through six units: the College of Arts and Sciences, J. Mack Robinson College of Business, College of Education, College of Health and Human Sciences, College of Law and Andrew Young School of Policy Studies. In addition to the numerous degree programs, Georgia State offers full- and part-time programs and day, evening and weekend classes.

Georgia State has University centers in Alpharetta, Brookhaven, Buckhead and Henry County offering students convenient suburban locations for graduate courses in business and education.

Georgia State had an economic impact of more than $1.5 billion during FY 2010.